Natural wood fences
Options and uses
Sober and aesthetic, natural wood fences require regular maintenance to increase their longevity. You can find it in the form of a traditional fence , with horizontal planks or composed of vertical slats helping to protect from intruders while beautifying the whole.
In the form of a wooden palisade or a screen, the natural wooden fence will protect you from the wind and prying eyes.However, it is relatively fragile and is therefore more suitable for small areas, such as a terrace or a swimming pool.
Hardware installation
If you want to install your natural wood fence yourself, you will need several tools. First a string to ensure its alignment, concrete to seal the support posts in the ground and a drill-driver to fix the fence above. You can ask a professional to place it for you.
Average price for 100 meters of land
The average price of the material for the creation of a natural wooden fence with a delimitation of 100 meters, varies between 5000 and more than 15000 euros, depending on the solution chosen (logs, boards, slats), the essence of wood used and the desired height.
Mesh fences
Options and uses
Wire mesh is the simplest and most economical type of fence you can find. There are two versions: flexible mesh or rigid mesh panels.
The flexible mesh is the most economical model, sold in rolls. Very easy to install, it can be placed on uneven ground and can be covered by screens. It is recommend for marking out very large lots at a lower cost.
The rigid mesh, on the other hand, comes in the form of panels. It is much stronger and offers a more durable solution. Purchased panels are fixed with metal posts, previously seal.
Installation material
To install a fence, you will simply need to plant stakes or posts by fixing their base in the ground with concrete.You can then fix the roller simply with iron wire or with turnbuckles, to make it as rigid as possible and thus increase its resistance
Concrete fences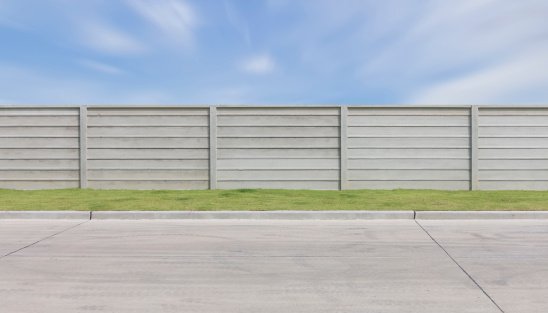 Options and uses
The concrete fence is the strongest and most durable of all. It requires no maintenance and can last for decades. Of a reasonable height, it is perfect as protection against intruders and prying eyes, but also against wind, humidity and shocks.It is also very easy to paint it or add a plant covering, wooden cladding or mineral siding to add a more personal touch to your garden.
Hardware installation
As with the other models, you will need a chalk line and concrete -some just need to add a little water for laying – to install the support posts. Remember to place them well, you will not be entitled to error. Then lay the bars or plates one by one, fixing them to the posts with mortar. This work requires several people and ideally the help of a craftsman for perfect alignment
Composite and PVC fences
Options and uses
Wood composite or PVC fences are inexpensive, simple to install and have a long enough life for minimal maintenance. They are sold in the form of a traditional barrier, allowing you to benefit from the aesthetics of wood at a lower cost. With the panels you will be protect from prying eyes. Easy to clean, stain-resistant, weather-resistant and rot-proof, composite fencing offers the best alternative in terms of durability and value for money.
Installation material
To put up a PVC or wood composite fence , you will need to cast supports in concrete on which the pillars will be embedd.This structure is more fragile than wood, but it does not fade in the sun, is very easy to clean and will last for years if you fix it correctly. Then just come and fix the panels on it by screwing them.