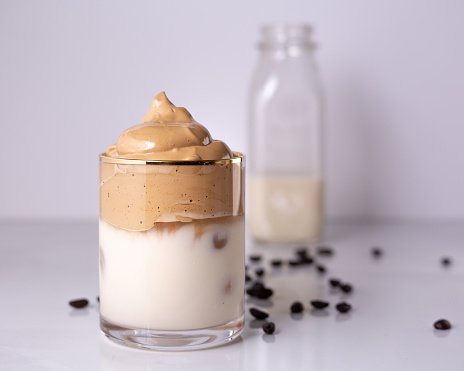 What's sweet, made with what's in the pantry, high in milk, and absolutely photogenic? The delicious Dalgona coffee, of course! If you're not quite familiar with this caffeinated whipped brew that tastes like heaven, you haven't wasted much time on social media since the lockdown began!
Dalgona coffee appeared in a South Korean TV series in January 2020, and has since caused a surge of caffeinated posts on Instagram, TikTok and Face book. Viral, you say?
What's in Dalgona coffee, and where does it come from?
Few people heard of Dalgona coffee before the planet went into lockdown. Even fewer will have heard of the Korean honey candy from which it takes its name. This new brew has captured the thirsty attention of isolated coffee lovers looking for a new recipe to try with ingredients found at home. The fact that this cafe is so pleasing to the eye has contributed a lot to its great popularity, and so the #dalgonacoffeechallenge was born.
Already, several countries are offering their own version of the smoothie, including Greece with its ubiquitous iced coffee and India, where the drink is called phenti hui . In the current pandemic situation, it's hard to travel to Seoul to taste it, so here's how to prepare it from the comfort of your kitchen.
RECIPE: how to make Dalgona coffee
Ingredients :
2 tablespoons instant coffee (or espresso powder)
2 tablespoons granulated sugar (or sweetener of choice)
two tablespoons hot water
Milk (optional)
Ice cream (optional)
Step 1. Combine the first three ingredients in a bowl and whisk vigorously by hand or with a mixer. Whisk until the mixture becomes thick like whipped cream and caramel in color (about 5 minutes).
Step 2. Spoon over a glass of hot or cold milk, with ice.
Step 3. Snap a photo for your Instagram feed, mix and enjoy!
It is important to note that such a whipped coffee brew is not possible with ordinary ground beans. And you can make a heartier mix and enjoy it for several days by storing it in the fridge with a tight fitting lid, for up to a week. Increase everything in a one-to-one ratio, and you're done.
A variation of the beverage for all tastes
Once you've mastered the basic recipe for this delicious smoothie, you'll want to take it to the next level. Coffee aficionados are already inventing new tasty variations on the classic Dalgona, for example by adding a tablespoon of cocoa powder or pure vanilla extract.
Not sweet enough for you? Then turn it into a real decadent dessert by adding dulce de leche, salted caramel and Nutella. If it's too late to make a coffee break of it, put it at the heart of your next happy hour. It will become an unstoppable cocktail by adding a few drops of Kahlua, Baileys cream, bourbon, whiskey or even rum!