Who wouldn't wear a white dress for any occasion anyway?The quintessential summer garment is so hot that it cannot and should not be reserv for vacation days. We would like to take it with us for everyday occasions, even to go to the office.Practical, timeless and so refreshing, bohemian dress chic white dress even in town.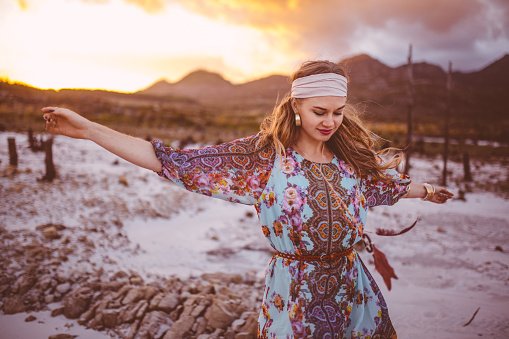 How can you resist the light virginal lace, crocheted details and perforated fresh cotton of the white summer dress? The transparencies and pretty white ruffles that characterize the white dress par excellence also adapt to the city look… just bet on the right accessories .We ask for help from fashionistas who set the trends from home : here are 5 ideas for wearing the bohemian chic white dress with style, even on the asphalt!
With flat mules and a city bag
This style goes perfectly with a plain white or all-white lace midi dress, and allows you to wear it even in the office. The bag is essential: in the hand, large and with beautiful, very practical pockets.
With rock boots
Want a rock touch?The white eyelet dress is perfectly worn in town with ankle boots . Opt for lace-up boots or combat boots for an even more rebellious touch!
With strappy sandals
Making the bohemian dress elegant is possible with the right shoes. It looks like a cocktail dress even at the aperitif with a pair of strappy sandals.
A touch of black
If you're not a big fan of the white and black mix, adding a few touches of black to a totally white outfit works every time. The detail that hits the mark? Notes of gold!
An androgynous look with a maxi blazer
Is the white dress the essence of romanticism in summer ? In fact, it can also be transform into a garment with a masculine look, if worn with an oversized blazer .