Hair oil takes care of damaged, dull or non-growing hair. Despite its greasy texture which seems unpleasant for some people, it is known for its nourishing, moisturizing and protective properties. Which hair oil to choose and how to apply it? Overview.
Hair oil is a kind of lipid that plays a vital role in holding hair and scalp cells together. Indeed, it penetrates deep into the hair fiber to restructure it. Results ? Your hair is shiny and strong, yet soft to the touch.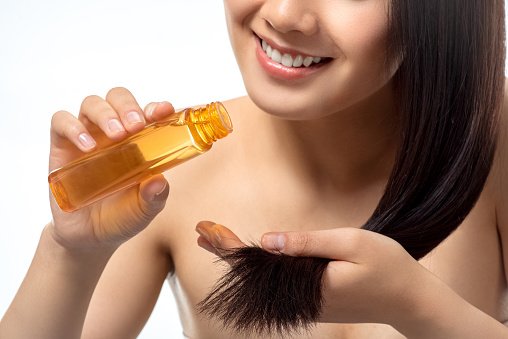 In addition, the hair oil protects the hair from external aggressions such as pollution or ultra-violet rays. It works by sealing in moisture, preventing hair from drying out.
There are generally two types of hair oils on the market: hair oils with synthetic components and 100% natural hair oil. The choice depends on the nature of your hair and the finish you are looking for.
Which hair oil to choose?
The choice of a hair oil is made according to your hair type as well as your real needs. If your hair is colored, opt for hibiscus oils mix with piqui oils and argan oils. Castor oil is recommend to accelerate hair growth. Mixed with pracaxi oils, piqui oils will enhance curly hair.
If your scalp is oily, use an organic jojoba-based vegetable oil like the one from Typology. For a touch of freshness, add a few drops of rosemary essential oil. Nothing like coconut oil to deeply nourish your hair. In case your scalp is irritated,apply a mixture of touloucuna oil and chaulmoogra.
How to apply your hair oil?
Whether it is to repair, moisturize or nourish your mane,applying hair oils can be done in different ways:
In an oils bath or as a pre-shampoo treatment
Hair oils can be use as a pre-shampoo treatment. To do this :
Pour the hair oils into your hands before spreading it over the ends and length of your hair;
Lightly massage the strands one by one to make the hair oils penetrate into the hair fiber;
Wrap your hair in a transparent film lined with a towel for about half an hour;
Proceed with a mild shampoo, then rinse with clear water.
In daily styling care
Used in styling care, hair oils nourishes and hydrates the ends and lengths of your hair. The application is done as follows:
1. Pour a few drops of oil into the palms of your hands;
2. Rub them in before running your fingers down the length of your hair like a comb. This will distribute the treatment throughout your hair.
In shampoo
If you prefer not to use hair oils in daily styling care, mix it with your shampoo. At Typology, we advise you to add a few drops of organic jojoba vegetable oils to the 10-ingredient shampoo to enhance and maintain your hair.
Unconditional
A few drops of hair oils alone can be a conditioner. After a few minutes break, rinse with clean water. Do not hesitate to add a few drops of hair oils to your classic conditioner for a satisfying result.