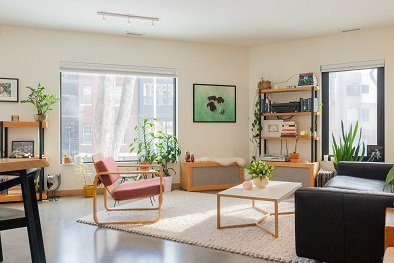 Light candles, put your feet up and let them fall into the soft cushions. Isn't it nice that we have a room that's all about feeling good and relaxing? Furnishing the living room decor means, above all, not just thinking about the function of the room. Here you should also choose furniture and decorative accessories that are stylish and comfortable.
Our interior experts know how to create a comfortable atmosphere. And with a few clever tricks, you too can turn a sofa, coffee table, armchair, etc. into a fantastic lounge! So let yourself be inspired by our ideas and our living trends for 2022 . We are happy to help you set up the living room and have inspiration for every taste.
Setting up the living room decor: All steps at a glance
Choose the furniture: With this you divide up functionalities at the same time. Do you want your living room to be just a place to relax, or do you want a dining area and/or a place to work? Also create a focal point. In most cases, this is the sofa.
Decide on a style: There are many different furnishing styles that are conceivable for the living room. Just choose the look you like best!
Decide on the color concept: There are a lot of different variants here too. However, natural earth tones such as beige are absolutely trendy for the living room. To do this, you can also add 2-3 more colors so that the room does not look monotonous.
Provide storage space: This step is all too easily forgotten! Storage space is incredibly important to create order and comfort in your living room.
Create a cozy atmosphere in the living room with light: You should integrate several light sources, at least three. Indirect light also plays an important role!
Think of the decoration: after all, the icing on the cake is the right decoration. However, do not decorate too much and prefer to use a few larger objects. For groupings, pay attention to odd numbers.
Design your walls: whether it's an entire picture gallery, individual photographs or a trendy wallpaper – wall design is simply part of the living room! What exactly this should look like also depends on your chosen style of living.
Step 1: This furniture should not be missing when setting up the living room decor
Stimulating conversations, fun game evenings, dinner together and many happy hours – we spend all of this at the living room table and on the sofa. A large table can be much more when setting up the living room than just a dining area in the living-dining room . Because this piece of furniture is a place of communication and togetherness. Here you sit together, eat together and laugh with friends and family.
But not only the coffee table is an important element when setting up the living room. After all, the sofa is the focal point in any living room interior . Whether you opt for a two- or three-seater or a corner sofa, you should make your choice based on the space available. Note the proportions of room to piece of furniture !
Of course, in addition to the table and sofa, other furniture such as armchairs, shelves , cupboards and chests of drawers and TV furniture should not be missing. These pieces of furniture are not only important for storing things and completing a living room. Of course, they are also a wonderful stage for pretty home accessories and decorative items .
Step 2: Decide on your favorite style
When you set up your living room, you can let your creativity run free and live out your personal preferences in a comfortable way. Every living room is individual and says something about its inhabitants. Our style experts introduce you to the most popular furnishing styles for living room design.
Our tip in advance: The Feng Shui living room is currently very popular! A nice idea to feel good at home.
Furnish living room in Scandi style
There are three important factors when furnishing the living room in a Scandinavian style. Brightness, lots of space and natural materials (especially wood ). Round it off with a lot of comfort with decoration and textiles, and nothing stands in the way of the Scandi style!
Furnish living room in retro style
Curved shapes, wood and expressive colors characterize the retro style . Above all, a kidney-shaped coffee table should not be missing in the living room. Perfect for this: A vintage leather couch for the real vintage living room with charm!
Set up the living room in a minimalist and modern way
Minimalism looks particularly modern and is absolutely hip. To set up your living room in a minimalist way, stick to the motto "less is more". Clear shapes, simple colors and little decoration bring this style into your modern living room .
Furnish living room in country style
If the living room is to be surrounded by rural and rustic magic, wooden furniture is the basis. Coffee table, living room wall and side table can convince in almost white as well as in a dark look. Delicate pastel shades are well suited for home accessories, as they harmonize well with wood. Under no circumstances should flowers and green plants be missing in the living room in a country house style . Incidentally, the living room in the shabby chic look is closely related to this !
Set up the living room in rustic industrial chic
A spacious room like a loft is perfect for this style. Because this decoration creates a homage to old factory buildings. The mix of metal and wood creates the special charm. Shelves made of matt metal in combination with solid wood – this creates a high-contrast picture in the rustic living room !
Set up the living room in boho chic
Do you love the casual look and natural tones such as cream, terracotta or mustard yellow? Then the boho style is just right for you. In this living room design, plants are a real must. Textiles made of cotton in a pattern mix should not be missing either. You should also rely on a lot of wood when choosing the material. The more natural the better!
Glamorous designer living room
On the other hand, if you prefer high-quality materials and timeless pieces of furniture, you can also set up a designer living room . Here you can fall back on real design classics such as the Ghost Chair. A bar in the living room is particularly glamorous .
Step 3: Set up the most beautiful colors for the living room
Not only the style of living, but also the color concept has a major impact on what your living room will look like later. There are plenty of shades that are ideal. You bring in the color either through furniture, through decoration or through a wall color . Discover our favorite colors and tips for furnishing the living room decor in our article: