Ingredients
1 kg sweet potatoes
25 cl Whole liquid cream
5 tbsp. tablespoons olive oil
Butter (a little)
flower of salt
Pepper
Calories = High
Preparation steps

Peel the sweet potatoes and cut them into small cubes.

Boil water in a saucepan and cook for 10 minutes.

Drain the sweet potatoes then blend them with the cream, olive oil, salt and pepper.

Serve with a knob of butter.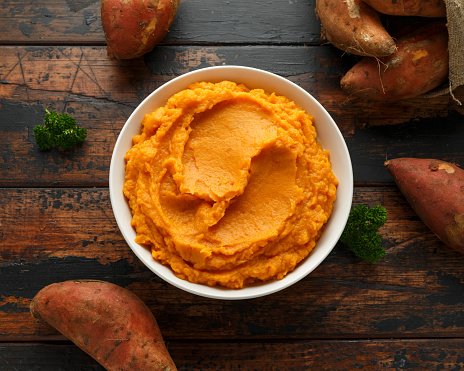 A delicious orange puree to enjoy as an accompaniment to a roast or poultry.

For a softer result, you can make mashed sweet potato . To do this, replace half the sweet potatoes with potatoes. Cook separately and stir when mashing.

Coconut sweet potato puree is a delight for lovers of exotic flavors. To make it, replace the liquid cream with coconut milk.

For the children, prepare a mash of sweet potatoes and carrots . To do this, add three beautiful carrots cut into large sections in the sweet potato cooking water.

To lower the calories of this mash, prepare a sweet potato mash with milk , replacing the fresh cream.

Do you like mashed sweet potatoes? Also discover our recipe for sautéed sweet potatoes .