How to choose and buy ice skates?
Winter is coming and you would like to go skating with your family, but you don't have any skates and don't know what size to buy for your child? You don't know much about the field and you don't want to go wrong when buying ice skates, you've come to the right place!
1. Why buy ice skates?
The first thing to know before buying ice skates is why you want skates. Whether adult or child ice skates, there are 3 types of skates:
Recreational type ice skate, so for fun: choose a skate that is both flexible and articulated to allow easy and comfortable movements during skating. It's a hobby so you might as well buy skates that are really comfortable for your feet.
Ice skate for playing hockey: choose a lightweight skate with solid foot support to help with picking up speed, stopping and turning sharply.
Ice skate for figure skating: choose an ice skate with a high shaft and especially with a blade that will allow it to remain very stable during the various artistic prowesses.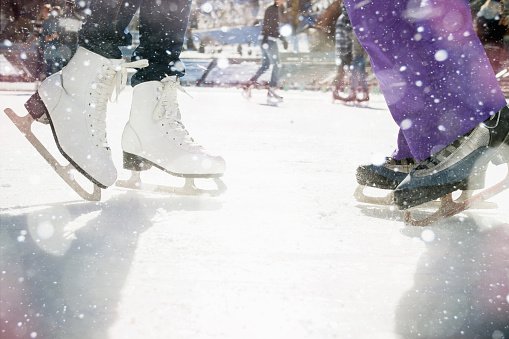 2. Check your weight before buying skates
As with many other sports items, it is important to take into consideration its morphology and in the case that concerns us here, the purchase of ice skates, the weight is an important characteristic.
Indeed, the heavier you are, the more you will need a rigid and efficient ice skate. So it is important to get good advice to buy a good ice skate according to your weight and your height.
The weight of the child or the adult is just as important as the height when it comes time to buy ice skates. So do not hesitate to seek advice from a sales consultant at the sports store. He is the best person to help you choose the best ice skate.
3. Buy men's ice skates
Even if you are a woman or if you plan to buy skates for your daughter, it is now advisable to go for men's skates… Yes, even if you are a woman or a young girl!
Specialists and sellers are increasingly suggesting that girls and women buy men's ice skates. Thanks to this type of ice skate, the movements are lighter and above all much more natural than girl skates or more artistic skates.
4. Which ice skate size to choose?
If you want to buy ice skates for your child it is extremely important to choose the right size just like shoes or boots.
The skate that your child puts on and that is the right size will be the right skate to buy. Indeed, unlike adults where it is advisable to choose a half size smaller than shoes, for a child it is different, we choose the exact size, the one that is comfortable for the child's foot.
Also, it is useless to choose a larger skate size to hope to save next year on a new pair of skates. A child's feet grow very quickly, so next year you will definitely have to buy new skates. It is very important to get advice from an experienced seller when buying ice skates, especially for your child.
5. Rent ice skates
Depending on the model, brand and type of ice skate you want to buy for yourself or your child, the price can be high, even very high.
Before buying ice skates why not start by renting some. So you will know what kind of ice skates suits you best. You can also borrow some from friends or even a family member who wears a shoe size similar to yours.
If you want to buy ice skates for your child, why not buy used skates. You will save a lot of money by opting for used skates. You can find them online on classifieds sites or in black-market groups on Face book, for example.
6. A single pair of stockings in skates
As with the purchase of shoes or boots it is important to have a good pair of warm socks or stockings with you when trying on the skates.
There is no need to wear more than one pair of stockings in quality ice cream pantries. Your feet should be perfectly warm with a good pair of warm socks this winter. If you forgot your socks at home then why not ask a salesperson for a pair of socks to try on your ice skates before buying them.
7. Try several models of skates
If you really want to choose the best ice skates for adults or children, you have to try, try and try again! How do you find the best ice skate if you don't take the time to try out several makes and models?
Pad widths vary from brand to brand. That's why it's best to try several brands to choose the right pair of skates for you and especially for your feet.
8. Sharpen your skate blades
Finally, here is a bonus tip on sharpening skate blades:
If you skate indoors, the blades must be sharpened approximately every 10 skating sessions.
If you skate outside, it will be approximately every 5 skating sessions.