GENERAL
Although not generally considered a " NOSTRIL PIERCING ", it does require careful care during the healing period. As with all piercings, keep in mind that this is a wound and infection can occur if care is not taken. In addition, facial piercings are more at risk of infection than others because it is very "tempting" to touch them all day long (with dirty hands, of course!).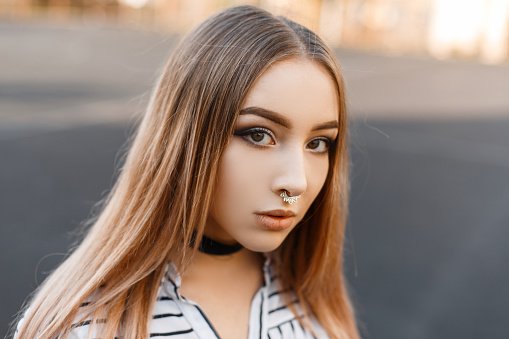 NO PIERCING WILL HEAL IN A FEW DAYS.
FOR THE NARINE, COUNT APPROXIMATELY 2 MONTHS.
Contrary to popular belief, the nostril is not made up of cartilage, but rather muscle .
The muscular tissues being very dense, the hole tightens very quickly when the jewel is removed, even once healed. In some cases, a few minutes are enough!
So don't plan to take it off and put it back on every day to go to work, you risk "cutting yourself" every time!
YOU MUST THEREFORE BE ABLE TO ASSURE YOUR PIERCING EVERY DAY.
There are some rumors about the risk of facial paralysis.
Don't worry, to risk damaging the facial nerve , you really have to do it on purpose by piercing along the nostril, flush with the cheek!
TYPES OF JEWELRY
Earrings are not suitable for a nostril (especially during the healing period). They are too short and the clasp is very inconvenient for good healing and impeccable hygiene. The solution could then be not to put the clasp. Only, in this case, the jewel may not stay in place and we can therefore fear that its hole will tighten or even fill up. There is also a risk of injuring the central partition with the stem of the jewel.
There are jewels specially designed for the nose (shiny with a curved "pigtail" rod that presses against the inside of the nostril and does not include a clasp) but they are unsuitable for a first pose.
Indeed, for this type of jewelry to hold well, it must be tight. So it will be too short as soon as the nose swells. On the other hand, if a sufficient length of rod is provided to leave the necessary space for healing without problems, the end of the rod will protrude from the nostril (which is quite unsightly!) and the "head" of the jewel will not be not plated. There is therefore a risk of picking up the jewel and injuring oneself. On the other hand, once your piercing has healed (count about 2 months), this type of jewel is the one that is the most comfortable and the most aesthetic.
However, be careful of allergies to silver (very common) and poorly designed jewelry (rod less than 0.5mm thick, glued stones that do not hold, rod too short, "balls" of solder likely to hurt or irritate piercing, "exotic" metals likely to cause allergic reactions, etc…).
The ideal is a jewel in surgical steel or gold (minimum 14ct) and a thickness of 0.7mm or more.
THE ONLY TYPES OF JEWELRY WHICH DO NOT CAUSE PROBLEMS DURING HEALING ARE THOSE SPECIALLY DESIGNED FOR PIERCING:
either a piercing ring or a small, specially designed L-shaped piece of jewelry, both made of grade 316 L or LVM implantable surgical steel.
THEIR SHAPE DOES NOT RISK INJURY AND ALLOWS EASY CLEANING
THE PROCEDURE FOR DRILLING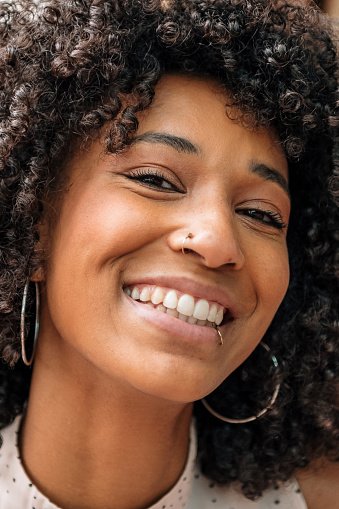 A piercing is made with a needle. It's a little painful but frankly bearable! Then the jewel is put in place. The hole is therefore made cleanly and clearly, unlike the ear gun which makes the hole directly using the jewel by tearing the flesh. In addition, using a needle, you can easily pierce at the exact place of your choice (usually the "small furrow" that emerges when you wrinkle your nose).
We know people prefer the idea of ​​guns to needles. It is the fear of the needle that motivates this choice. A gun piercing hurts no less than a needle piercing.
Why isn't a device designed as a stapler scary? Here are some details that may make you change your mind. The gun was designed for EAR LOBES and ONLY for that.
Of course, this device allows you to directly place a relatively discreet little gem and the price is quite attractive. However, it is absolutely not suitable for the practice of body piercing and can even be dangerous.
It is impossible to sterilize. Do not confuse: STERILIZE (destruction of all micro-organisms under the effect of high heat: by autoclave or dry heat oven) and CLEAN or decontaminate (remove residues and fatty deposits using a cleaning product and bactericide; operation necessary before sterilization).
Diseases can be transmitted from person to person. The risks of transmitting AIDS are very low since a priori there is no projection of blood and the jewel has not been worn by anyone else. On the other hand, the hepatitis virus, which is one of the most resistant, is not destroyed by a simple cleaning with alcohol or bleach. It can therefore be transmitted from one client to another by simple contact of the device on the piercing.
It is impossible to properly clean the scabs that form on the clasp inside the nose; the piercing is therefore at risk of becoming infected. In addition, the clasp can be very annoying and injure the central septum of the nose during a shock (or more simply by blowing your nose!).
The jewel placed by the gun is too short and very often digs into the nostril, resulting in a crater instead of a clean hole. The nostril is not much thicker than an earlobe (6 to 8mm in general), but it swells more during the healing period. So, even if before a piercing the jewel may seem correct, the problems will arise after a few days. The nose will swell and the jewelry will be too tight.
The gun does not allow you to drill exactly where you want and the hole is usually made too low.
The majority of serious piercers therefore refuse to use this type of device and "gun piercings" are often performed by amateurs who are unaware of the risks they pose to their customers.
Most of the time, they don't even bother to clean it, even with alcohol, between each client.
The "prostheses" supplied in sterile packaging are generally handled without gloves and with dirty hands as soon as the packaging is opened.
The indicated healing times are frequently "optimistic": 2 to 3 weeks, while a nostril piercing takes on average 2 MONTHS to heal completely.
Cleaning advice is often bad and it is common to recommend the use of denatured alcohol (which is an aberration!).
If despite everything, the idea of ​​wearing a ring or a "prosthesis" for two months is frankly unbearable for you and you want to wear a little shiny at all costs, it is that you are probably not ready yet. ) to assume all the constraints of a piercing.
Maybe you should think a little more…