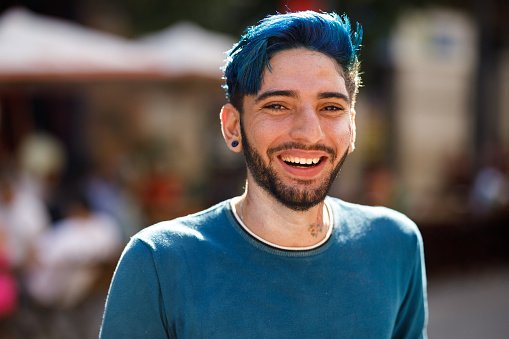 Nicole's slicked back style
Check out how incredibly chic Nicole Richie looks in this deep blue hair style returned to an updo. She's tried almost every hair color under the rainbow and pulls them all off flawlessly. As proven in this photo, minimal and subtle makeup looks gorgeous paired with the mysterious shade of blue.
Katy's statement wig
Another notorious hair unicorn, Katy Perry obviously has a thing for blue. Perry's longtime colorist Justin Anderson hit almost every shade imaginable for the singer. This chameleon of color walked the 2012 MTV Movie Awards in a playful blue wig accompanied by the sharpest cat eye.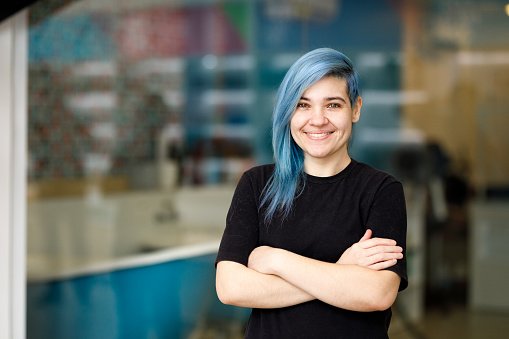 Jaime's Light Ombr
We're in love with the ombr approach Jaime King took with her mermaid hair at the Saint Vintages Love Tour Cancer Event in Los Angeles in 2012. From baby blue fading to deep purple, this daring hair suits her so well. The actress informed Byrdie about this dye job: "I've always wanted to dye my hair another color but due to contracts I couldn't. I went to the drug store and bought purple and blue dye. My husband always colors my hair for me. He's a director but he's also a painter, so I go to Tracey Cunningham and she mixes my paint and then Kyle paints it on. He painted this at home one night.
Kylie's midnight blue look
A hair color recap wouldn't be complete without Kylie Jenner, aka the kween of ultimate hair color change. That day she decided to debut a long navy blue layered look that we absolutely love.
Those navy curls
This close-up of deep sea-inspired curls is beyond cool.
If you don't want to go all the way with permanent color, try Splat Hair Chalk ($7) in its navy shade. This temporary hair color glides over your hair so easily, leaving a great color payoff.
Demi's Teal Toned Waves
Navy blue highlights? um, love Demi Lovato looks gorgeous with her dip-dyed streaky lob. Here's proof that this shade looks sophisticated in a feathered, tousled style.
Thinking about adding highlights like Demi? Marshall says she usually adds different depths of color to all fantasy colors, and says extra highlights can make an unnatural color look natural and professional.
Navy with teal accents
Teal and navy just go together, right?
Rita's ever-changing blue
We've seen Rita Ora wear it all, so obviously she wasn't discriminating against blue. The singer took a step on the wild side when she posted this Instagram pic with the caption, "Today is Smurf Day." Of course, it wasn't long before she sported a different rainbow color on her hair, but we're here for this Instagram moment.
Extreme marine waves
The vibrant navy color, also known as Extreme Blue ($32) from Overtone, is a winning look. It has such beautiful hidden depth and looks so natural on dark hair.
Electric Blue highlights
That navy highlighted lob = amazing. The still dark base offers a great contrast to the lighter color.
Blue, blue curls
Good Dye Young's Semi-Permanent Hair Dye in Blue Ruin ($12) looks so amazing spritzed all over those incredible tresses. The matching metallic eyeshadow is frankly iconic too.
All-over navy curls
But those navy blue locks have our hearts, too. It's all so great!
Gwen Stefani's dip dye
Have you ever seen navy blue worn like this before? We honestly expect no less from Gwen Stefanishe, who's never been afraid to have fun with her beauty looks. It's her parting hair dyed blue, and we'll never get over it. She's paired her cobalt blue locks with jet black and platinum blonde, and it's literally everything.
Still dark roots
Navy Blue is whatever you make it. Incorporate lighter shades of blue for a dynamic look. If you want to keep darker roots, Marshall recommends using a foilyage technique to create a smooth transition from natural hair to navy blue.
Navy Lob
This custom blend comes courtesy of Pulp Riot's Semi-Permanent Dye, which Marshall says is her favorite dye.
Shiny metallic waves
Alfredo also used a mix of Pulp Riot colors to achieve this amazing color. These Hollywood-worthy waves appear to have an almost metallic tone.
Marshall warns you to avoid drugstore brand shampoos, as direct dyes are very delicate and can fade very quickly if washed with inferior shampoos. Also, try to avoid heat and hot water. This will ensure your color lasts as long as possible.
All over blue
Compared to Jaime King's ombre approach, this all-over blue gives us total winter hair vibes. The direct quality of the dye also plays a big part in color fading, Marshall says.
marine roots
A combination of Pulp Riot's Brightener and shades Noir, Aquatic, Blue Muse, Velvet, and Nightfall (all $14) come together to create this dynamic shade. We love how it stays on top to a deeper navy while still incorporating lived-in roots.
Mix dark and light
The actress is also known for her light hair choices. Though she usually sticks to a coppery red, this particular deep blue looks extra edgy with a light blue eye look.
Midnight Blue Curls
These pre-lightened locks look so amazing with Arctic Fox Hair Color's Poseidon ($11).
Long navy blue layers
When it comes to colors like this vibrant blue, a stylish cut definitely adds to the fun while looking super sleek. It's the best of both worlds.
Ocean toned curls
No words accurately describe these amazing curls. But the color? This is Good Dye Young's semi-permanent color in Narwhal ($18)
blue and black
What really works with this navy blue style is how well the deep blue blends into the base color! When it comes to a balayage look like this, all you need to do is touch up the blue on the fade, which Marshall says can take 4-8 weeks depending on your home care routine.
Deep waves of indigo
We're finishing off this navy blue roundup with some seriously shiny waves. Not only are these waves truly enviable, but the color absolutely convinced us that blue is the way to go.