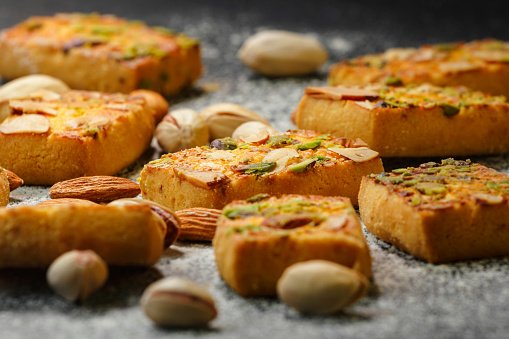 There are few things I enjoy more than baking, so our oven is busy with year-round delights, perfuming the air with the scent of homemade LOVE. This pistachio cookies recipe is one I developed last year, and the beauty of it is (1) the recipe is a breeze (2) it's delicious, and (3) it's gluten-free and easily vegan with an egg substitute like aquafaba (the liquid you drain from canned garbanzo beans). Easy pistachio cookies! Bake these gluten-free nuggets is a keeper I made last Thanksgiving, and I plan to make it soon!
I placed a little thumbprint in the cookies and topped them with chocolate chips, but I wasn't crazy about how they looked after giving them this photo shoot. When I made them again, I poured melted chocolate over the cooled cookies. You can't lose any way!
Gluten-free pistachio cookies recipe
Crinkle Pistachio Almond Cookies // makes 18 small cookies
1/2 cup salted shelled pistachios, chopped
1/2 cup chopped almonds
1 cup old fashioned oats, ground
1/4 cup brown sugar
1/2 tsp pure vanilla extract
1 tbsp amaretto soup, optional
1/4 tsp sea salt
1 1/2 tsp. maple syrup
1 large egg white (or 1/4 cup liquid drained from a can of chickpeas)
1 tablespoon coconut oil, melted
1/2 cup powdered sugar ( to coat cookies before baking)
Frosting: 3 oz. dark chocolate chips, melted (for drizzling over cooled cookies)
Preheat the oven to 375º. Line a cookie sheet with parchment paper. I use a hand chopper like this to chop the nuts, and then add them to a medium bowl. With a food processor or the same chopper, ground oats combine with nuts and sugar.
In a glass measuring cup, combine the vanilla, amaretto, salt, maple syrup, egg white and melted coconut oil – stir to combine then pour over the dry ingredients.
The ingredients should be brought together into crumbly dough using your hands or a wooden spoon. In another bowl, add the powdered sugar. Form balls of dough and roll to coat generously with powdered sugar.
Place on a cookie sheet lined with parchment paper.
Using the bottom of a cup, flatten the ball to about 1/2 inch. If desired, sprinkle lightly with sea salt. Bake 11-13 minutes then cool completely before drizzling with melted chocolate.