Ingredients
large home fries potatoes (amount depends on the number of eaters
I use 8 large large fries potatoes for 2 people
1 tbsp. salt
liquid vegetable frying fat
Preparation method home fries
Peel the potatoes
Cut them lengthwise into slices and then into sticks. but even easier of course, with a French fries cutter.
Put cold water in a large bowl and add 1 tbsp. salt. Put the fries in the dish, cover completely with water and let it stand for half an hour.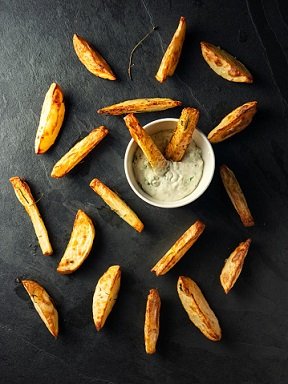 Salt water draws the moisture out of the potatoes, making them crispier when baked.
Drain the water, rinse the fries 2 more times with cold water. Drain in the strainer and pat dry in a clean tea towel.
Heat the frying fat to 150 degrees
. Check with a thermostat or thermometer if you do not have elec. chip pan
Bake chips in small portions in +/- 5 minutes.
Place some kitchen paper in a large sieve and let the fries drain and cool in the sieve.
Increase the temperature to 180 degrees before baking .
Bake the fries in small batches until they are crispy and golden brown, at most 2 minutes
. salt immediately.
Shake and serve hot with mayonnaise or fries sauce (less calories) or ketchup